Its Autumn! The leaves are changing colours and falling off the trees. Our streets are filled with the beautiful, vibrant colours of Autumn. There's no better time to go outside and explore. It's also a great time of the year to teach kids about the Seasons.
I always start teaching a new topic by introducing key vocabulary. I have found that the best way to do this is through visual materials- in this case, you could look through picture books and point out key words, you could go outside and talk about what you see, or you could use flashcards. Below are some flashcards that I have used in the past- feel free to download them and use them for your own children or at school. I like to laminate them and cut them out. Initially, I get the kids to repeat the words after I say them. As they gain confidence, they can then tell me themselves what is shown in the picture.
After children have been introduced to the key vocabulary, you can talk about what happens during each season. There are many fun craft activities you could do related to the seasons. Here are a couple of ideas that I have done with my own children and also in my classroom:
'Seasons Poster'– get children to fold an A3 piece of paper into four sections. Write a heading for each section- one for each season, Ο Χειμώνας, Το Καλοκαίρι, Η Άνοιξη, Το Φθινόπωρο, and get the children to draw something to show what happens during each season. For example, they might draw a snowman for Winter, flowers for Spring, the sun and beach for Summer and falling leaves for Autumn. They can also label their pictures.
'Autumn Tree'– Make an Autumn Tree by going outside and collecting lots of colourful leaves. On a large piece of paper, draw the branches of a tree. Children then stick the leaves onto the branches to make a beautiful Autumn picture. Write the heading 'Το Φθινόπωρο' and label the picture- for example, δέντρο, φύλλα, κόκκινο φύλλο, κίτρινο φύλλο.
Thanks for reading! I'd love to hear your ideas or see photos of your kids' craft activities 🙂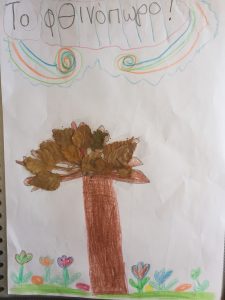 Download Seasons Flashcards here:
Follow me in social media: